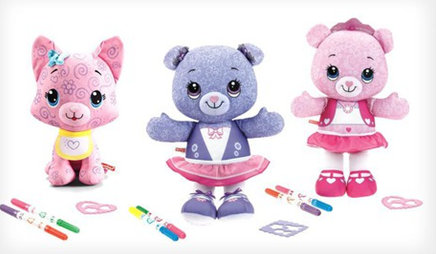 I wanted to let you know I saw a couple of good offers on the popular Doodle Bear!  The first one is Amazon, currently Fisher-Price Doodle Bear Violet  or Fisher-Price Doodle Bear Rose are just $19.17 eligible for FREE Super Saver Shipping on orders over $25 or free shipping with Amazon Prime membership.
Draw and doodle on the plush bears with washable markers
When the child is done doodling, toss the bear in the washing machine and the bear will come out clean and doodle free
Comes with a stencil that has 3 shapes in it for the child to trace
The markers are double-ended, providing 4 colors of doodle fun
Doodle over and over again
The second offer I saw is from Groupon.  You can get Doodle Bears or Doodle Bear Babies (Up to 42% Off) plus Free Shipping.  Limit 3 per person, may buy 2 more as gifts.
$9 for a Doodle Bear Baby ($9 list price) with shipping included ($5.99 value; $14.99 total value)
$15 for a Doodle Bear ($20 list price) with shipping included ($5.99 value; $25.99 total value)
Choose from:
Doodle Bear Baby: Bunny
Doodle Bear Baby: Kitty
Doodle Bear Baby: Puppy
Doodle Bear: Rose
Doodle Bear: Violet