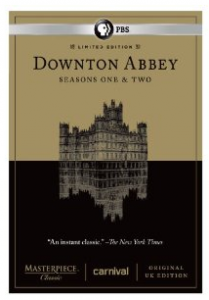 Calling all Downton Abbey fans!!  January 2013 can not come soon enough for the newests season!   Today only, get 60% off the limited-edition boxed set of Downton Abbey seasons 1 and 2 on DVD and Blu-ray as part of Amazon's gold box deal of the day.  DVD – Downton Abbey Seasons 1 & 2 Limited Edition Set – Original UK Version
$23.99 (Reg $59.99).  Blu-Ray – Downton Abbey Seasons 1 & 2 Limited Edition Set – Original UK Version Set [Blu-ray]
$25.99 (Reg $64.99)
FREE One-Day Shipping if you purchase this item using your Discover Card or Cashback Bonus®. Enter code DSCVRHSP at checkout.
Welcome to Downton Abbey, the splendid ancestral home of the Earl and Countess of Grantham (Hugh Bonneville and Elizabeth McGovern) and their daughters, who live there under the watchful eye of the Dowager Countess (Dame Maggie Smith). The household is a complicated community, with the servants below stairs as fiercely jealous of their ranks as anyone above. From the sinking of the Titanic to the First World War, the secure and ordered world of Downton is rocked as the lives of the inhabitants are shaped by romance, ambition, and heartbreak.
This attractive two-season set includes the Downton Abbey Christmas Special and is the perfect gift for a friend just discovering the series, or a great way to catch up in time for Season 3.