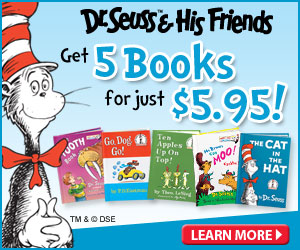 Help create a personal library of children's books by joining Dr. Seuss & His Friends book club.  No American writer has had as great an impact on children's literature as Dr. Seuss. His imaginative characters, vivid illustrations, and catchy rhymes are instantly recognizable to anyone who grew up reading his stories.
Great Deal for only $5.95! Includes:
– The Cat in the Hat, Mr. Brown Can Moo, Ten Apples On Top, Go Dog Go! & The Tooth Book
– Free colorful Cat in the Hat Backpack to carry all your books in.
– Free shipping.
– Free Dr. Seuss & His Friends Audiobook read by Jason Alexander, David Hyde Pierce or Kelsey Grammer*
If you do not wish to receive anymore books simply cancel your account after your shipment is received.