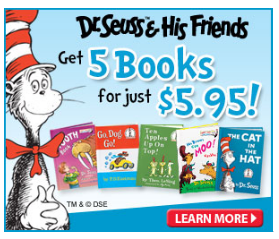 No American writer has had as great an impact on children's literature as Dr. Seuss. His imaginative characters, vivid illustrations, and catchy rhymes are instantly recognizable to anyone who grew up reading his stories. Create a personal library of children's books by joining Dr. Seuss & His Friends book club. As we all know, it's never too early to start reading these books to your children. Readers of all ages love Dr. Seuss!
Great Deal for only $5.95! Includes:
The Cat in the Hat
Mr. Brown Can Moo, Ten Apples On Top
Go Dog Go!
The Tooth Book
FREE Dr. Seuss™ & His Friends Activity Book
Free shipping
Why join Dr. Seuss & His Friends book club?
Receive 3 new books each month.
Create lasting memories with the same classic stories you loved as a child.
Wacky and wonderful characters will engage and entertain your baby.
Conveniently control your membership online.
Adjust your shipping interval
View account history
Preview upcoming packages Risk free. Cancel anytime.
No purchase commitment
High quality, hard covered editions.
Convenience of home delivery for less than $5 per book.
100% Satisfaction Guarantee.
Note: This offer is a monthly book club. Customers will automatically be charged and sent additional books each month. To manage your account, call 1-800-353-3140 or login to your account online: https://www.earlymoments.com/Login/