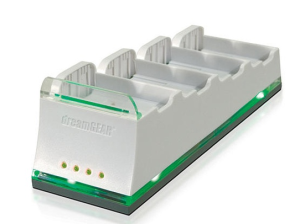 If you've got a gamer in your house, this may be a great addition to your game room! Head over to Groupon and pick up a DreamGear Quad Dock Pro Battery-Pack Charger for Xbox 360 for just $7.99! Shipping is free on orders of $24.99 or more, otherwise, you'll pay an additional $3.99.
Here's a little more info:
With this Quad Dock Pro from DreamGear, you can stay in the game for extended periods of play without worrying about your batteries running out. The dock charges up to four battery packs at a time, making sure your wireless Xbox 360 controllers are always ready to go. LED lights let you know when packs are either charging or fully charged. An included AC adapter plugs the dock into empty wall sockets, leaving system ports available for external media or USB-powered Slim Jims.
Model number: DG360-274
Charging dock for Xbox 360
Charge four battery packs simultaneously
LED indicator lights let you know when they're charging, charged, or require blood
LED illumination effect
Includes AC adapter
Condition: new