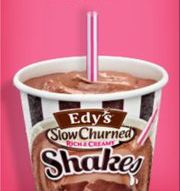 This Dreyers or Edy's Slow Churned Shakes Coupon: Buy Two Get One Free is available again.  Both of these offers are available on Facebook.
Make sure to check if your area carries either Edy's or Dreyer's.  It depends on the region.  I think it is the West Coast carries Dreyers and the East Coast Edy's?  Something like that.  I don't buy either, so I am not sure which one is available in which area.
Thanks, One Momma Saving Money!