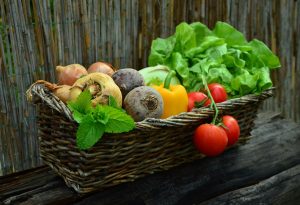 The other day we talked about some of the easiest vegetables to grow for those of us who are new to gardening. I only touched on 3 different veggies the other day, so I decided to talk about a couple more! I mean, we want more than 3 different options in our garden, right?
So let's move on and chat, shall we? Here are even more vegetables that are easy to grow if you are new to gardening. 
More of the Easiest Veggies to Grow for a Gardening Newbies
Tomatoes 
Okay, so here's the thing. I know that some people think that growing tomatoes is super easy, and some think it is just the opposite. I happen to fall into the latter. I have tried to grow tomatoes 3 different times and this year is the FIRST TIME EVER that I have seen any success. Of course, we aren't far enough into the season to actually harvest, but my plants are growing enthusiastically and there are lots of blooms already. 
I simply read some tips and chatted with people that I know that have seen success. I think as long as you follow a few simple tips, it can be easy.
Spinach
Spinach is very similar to lettuce. It grows easily and quickly. 
Green Beans
Green beans provide an abundant harvest and a quick growing time. Green beans also tend to be a kid-favorite garden vegetable. So, if you are gardening with your kiddos, this one is a great choice!
Do you garden? What is your favorite thing to grow in your garden? What have you found to be the easiest plant to grow? What tips do you have for a new gardener? We would all love to hear any tips that you have. 
Happy Gardening, my friends!