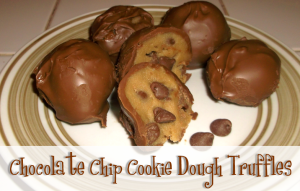 I love chocolate chip cookie dough! Who doesn't?! I'm also a big fan of chocolate as well, and the idea of putting the two together just sounds like about the best idea EVER!
So, it's no surprise that I've been on a mission to make chocolate chip cookie dough truffles ever since I read about them in the reviews for The Cookie Dough Lover's Cookbook. I think whoever wrote that book is my new idol…
That's when I set out on my quest to try chocolate chip cookie dough truffles. There are lots of recipes online to try, and most of them are very similar. However, one of my favorite eggless chocolate chip cookie dough recipes is on the Center Cut Cook. It makes a relatively small batch, and it's pretty darn tasty too. However, I think the brown sugar is just a bit much in that recipe, even for me.
So, I adapted it just a bit, and tonight I finally made my chocolate chip cookie dough truffles! I figured it would be a great little treat for Valentine's Day, and I think I nailed it. 
Ingredients
1 Stick softened butter (salted)
1/2 Cup packed brown sugar
1/4 Cup granulated white sugar
1 Teaspoon vanilla
1 Cup flour
2 tablespoons mil

k

1 Cup chocolate chips
2 Cups chocolate pieces for coating
Directions
1. Cream together butter and sugars.
2. Stir in vanilla.
3. Mix flour into mixture until crumbly.
4. Stir in milk.
5. Form small 1/2 inch balls of cookie dough and place on a wax paper lined cookie sheet. Place the cookie sheet in the freezer until firm.
6. Melt chocolate pieces in a double boiler or in the microwave. If you use the microwave, use medium power and stir the chocolate every few seconds to prevent burning.
7. Dip the semi-frozen chocolate chip cookie dough balls into the melted chocolate to completely coat them. Place back on the wax paper lined sheet and place in the refrigerator until firm.
Tips For making Chocolate Chip Cookie Dough Truffles
I got around 18 chocolate chip cookie dough truffles with this recipe. Ultimately, though, the number of chocolate chip cookie dough truffles you get will depend on the size you make the cookie dough balls. It will also depend on how many people you had dipping into the dough while you're making it. I had three.
You might prefer mini chocolate chips for your own chocolate chip cookie truffles. I used regular milk chocolate chips because that's just what I had on hand.
Don't skip the freezer step, and make sure your cookie dough balls are at least semi-firm before trying to dip them in the melted chocolate. They may get gooey otherwise.
Store your chocolate chip cookie dough truffles in a container in the refrigerator. Otherwise they might get all melty.
Feel free to experiment! Don't have chocolate chips? Try butterscotch or peanut butter instead. You can also use chocolate, butterscotch, white chocolate, or peanut butter chips to coat your chocolate chip cookie dough truffles.