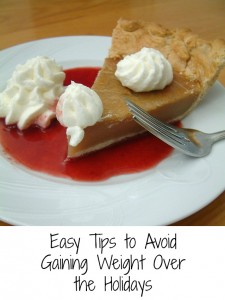 Many of us go into the holiday season dreading the weight gain that we all know will come along with the celebrations, the food and the countless holiday drinks.  Do you have a planned mapped out on how to avoid holiday weight gain?
If you are trying to plan in advance, here are some ways that you can avoid gaining weight this holiday season:
Stay Active – Don't let the colder weather of Fall and Winter keep you from staying active.  If you continue to stay active, you will be able to eat more of those great holiday calories without the guilt!
Limit your Drinks – It is very easy to overdo it on drinks, especially during the holidays.  It's easy to overdo it with drinks because it's easy to forget about the caloric value when you are not "eating."  Many holiday drinks (eggnog, alcohol, hot cocoa, cider, etc) have a high sugar content therefore high calorie transfer.
Watch your Taste Testing – Being eager to make sure the food you are making is good, many of us like to taste test our creations.  Be mindful of how many "tastes" you have had.  All of those little bites add up, especially with rich desserts and holiday favorites.
Bring Healthy Treats – If you have signed up to bring a dish to a potluck, don't be afraid to bring healthy treats.  You don't always have to bring pies.  Bring a colorful fruit plate and you might be surprised by how many people choose that to snack on.  Make sure you snack on the fruit too!  Fill up on the healthy stuff before hitting the dessert bar.
Eat at Home First – Before you head out to that holiday party, be sure and eat healthy foods at home first.  If you arrive hungry, you will be more likely to snack on the unhealthy goodies that are often there to snack on.
Take Your Time – It's not a race.  Be sure to eat your foods slowly and savour the yummy flavors that come with indulgent holiday foods.  Typically the slower you eat, the less you eat.
Do you have any tried and true methods for avoiding the typical holiday weight gain?