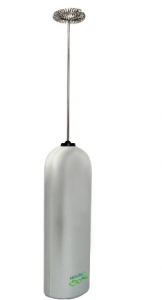 Do you like to make your own lattes at home?  An electric milk frother is great to use if you do.  You can pick this one up at Amazon for just $6.35!
Handheld, Battery Operated Milk Frother

Creates delicate foam for homemade lattes, cappucinos, hot chocolates, and more! Stainless steel shaft and whip

Stainless steel shaft and whip. ABS Plastic Body

Easy to Operate and Clean. Powered by 2 AA batteries (not included)

100% Satisfaction & 60 Day Money Back Guarantee
Making your own lattes and cappucinos at home is a great way to save money over buying them at coffee shops each day.