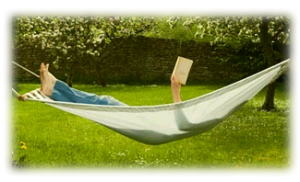 Summer vacation brings about thoughts of lazy days lying in a hammock, swimming, popsicles, and campfires. Once most kids step outside of the school on that last day, the idea of books and reading goes right out the window.
As parents, we want to make sure that our children grow up as intelligent and well-read as possible. One of the ways we can facilitate this is by encouraging summer reading. Students who read four or more books over the summer typically score higher on reading comprehension tests in the fall.
But, how do you get your kids to break away from their busy vacation plans and encourage summer reading?
Try these tips to make summer reading feasible and fun for your kids…
Surround Them With Books
Okay, maybe you don't have to surround them with books – that may be going overboard. However, your kids should at least have several books and magazines to choose from this summer. After all, summer reading would be pretty difficult without anything to read. You can borrow books for free from the library, or pick them up for dirt cheap at library sales, thrift stores, and yard sales.
Give Kids Reading Material They Like
Kids are more likely to read something if they enjoy it obviously. However, they're also much more likely to want to read something that they pick out for themselves. So, let your child pick out some reading material for themselves this summer. Even a magazine or comic book is better than nothing, as long as it's age appropriate.
Schedule Summer Reading
My kids are usually pretty great about reading, but when summer comes, they usually have other plans. Plans that keep them as far away from books as humanly possible. So, each summer, I try to schedule some summer reading time into each week, at least at first. By the end of the summer, they're usually reading on their own with no schedule needed. If you're going to schedule summer reading, start with small blocks of time a few times a week at first. I find that it also works out better when I schedule summer reading time for my kids during their down times, like early in the morning, right after dinner, or just before bed.
Make Rainy Days Summer Reading Days
Nobody likes a rainy day during summer vacation! Boo! If  your kids are singing the Rain, Rain Go Away blues, make rainy days summer reading days. To make it a little more fun, make a blanket fort and toss in a couple of flashlights.
Take Reading on the Road
Travelling is one of the best ways to encourage summer reading in my experience. We typically keep a couple books in the Jeep for the kids to read when we're travelling. This is especially helpful on long trips, when "Are we there yet?!" is inevitable. Kids might also enjoy reading outside, such as in a park or next to a lake. If you go camping, don't forget the books and flashlights!
Reward Reading
Well, some parents call it rewarding, but I just call it plain good ol' fashioned bribery! No shame in that! A little treat after finishing a book is almost always a great way to encourage summer reading. Once your kids finish a book, consider giving them a little treat, like a trip to the park or a tasty frozen treat.
What about you? What do you do to encourage summer reading?