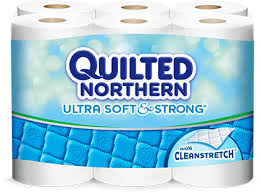 We're giving away a one year supply of Quilted Northern Ultra Soft & Strong to one of our lucky readers, and there's still time to enter!
How do you win this awesome prize, you ask? It's easy! Just head over to our Facebook post and answer a quick question…
How many rolls of toilet paper do you think you and your family use each year?
You MUST answer this question on our Facebook post for your entry to count. A random winner will be chosen  on Tuesday, June 10th at 2:30 PM Eastern Time and announced at 2:45 PM Eastern Time.
After you enter, head over to the Quilted Northern Facebook page and give them a Like! Also, make sure you check out  Emily's World to see what kind of fun experiments that inquisitive little girl has cooked up now! While you're at it, why not print a couple of Quilted Northern coupons to save a bit of money?