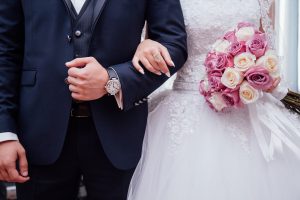 My husband and I recently decided to plan a vowel renewal ceremony so forgive me for going on and on about wedding stuff. We had a very simple, very rushed wedding the first time around, so I'm very excited about planning this! 
As excited as I am, I'm still all about saving money! That's why I am continuing to search out even more ways to save money on a wedding. If you are planning a wedding or vowel renewal too, here are some of the best tips I have found so far to save money! 
Even More Ways to Save Money on a Wedding
This list of even more money saving tips can significantly bring down your stress levels and make this special day even better!  
Get a Smaller Cake
People tend to go all out on cakes and honestly, there is no reason to. For my first wedding (which was very budget friendly, btw), we bought a small wedding cake along with a couple of sheet cakes that were decorated in a very simple manner (white icing flowers). We saved hundreds of dollars by doing this. 
Go with Less Expensive Invites
We live in a great time when printed products are MUCH cheaper than they used to be. If you are going with printed invites, here are my savings tips:
Single sided flat card invites are cheaper

Search out promo code and coupons

Look at Groupon (seriously. You can save big)
Or, if you are not particular about your invites, just send out an evite via text or an invitation via social media! For all of your social media savvy friends, this is a great choice. 
Minimal Décor
Minimal décor is hot right now anyway, why not use this as a way to save money?! I am a big fan of minimal decor anyway so I love this idea!