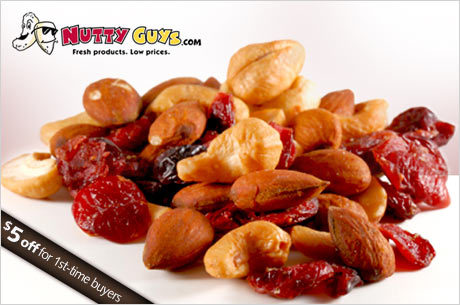 Another good deal from a social buying deal site. Eversave is offering a $18 Nutty Guys voucher for only $6. BUT if you are a new member to Eversave you get a $5 automatic credit which makes this only $1 out of pocket! I checked online and $18 will buy you two pounds of their deluxe mixed nuts among other things. Plus shipping is a flat $5 for up to $3 lbs of nuts.
Here is how to get this deal:
After you are signed up, at the top right look for "view different locations" and select Las Vegas.
The coupon code is valid starting 24 hours after purchase and it expires on 11/18/2010.  I jumped on this deal because my husband LOVES nuts!  There is no way I can find him two pounds of pistachios for just $6 shipped!
Thanks She Saved!
UPDATE: I called the company about the shipping charge and they explained to me that when you get your code from this deal, the code will also get you the $5 shipping.