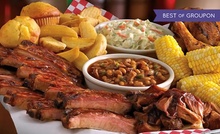 The Groupon 20% off sale has been extended through today!
Groupon is offering an extra 20% off local deals when you use the code MEGA3 at checkout! You can use this code to get some great discounts on activities like dining, concerts, and more! Use the same code to get 10% off getaways and 10% off Groupon goods.
This code is valid up to three times per account, but it will only work on one per transaction. If you want to snag more than one discount, you'll need to do separate transactions.