Now through 8/25 Sears is offering an extra 50% off select footwear items sold by Sears!  No code needed, discount is applied at checkout.  Plus save  15% off with promo code SEARSAUG or 20% off with promo code BTSSTYLE20 or $5 off $25 shoes sold by Sears purchase with promo code SHOEDEAL at checkout! Promo codes are valid through 8/4 as stated in my previous post.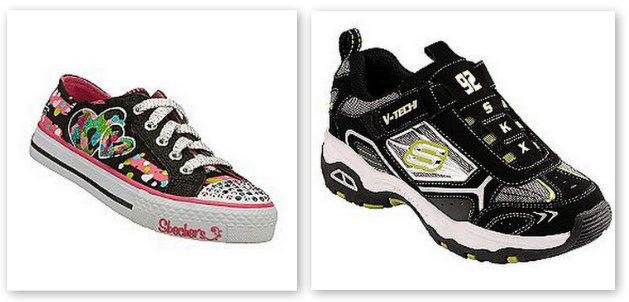 They have some cute Skechers deals you may be interested in.  The discounted pricing will be adjusted once you have added it to your cart. These deals are online only so check them out!
Skechers Women's Running Shoe Stride $17.50 (Reg $59.99)
Skechers Toddler Boys' Plotz Shoes $12.49 (Reg $39.99)
Skechers Boy's Athletic Shoe Encrypter – Black $17.50 (Reg $54.99)
Twinkle Toes Girl's Dream Jumper $17.50 (Reg $54.99)
There are several other brands and lots of clothing and other supplies to choose from so take a look around. Spend $25+ and get free shipping!