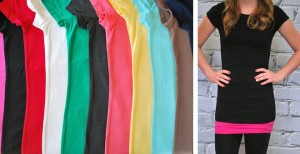 I grabbed a couple of these the first time they were offered a few weeks ago, and I love them! They're soft and definitely long enough to cover what needs to be covered. They're also great for layering!
For a limited time, you can get these extra long crew neck t-shirts for just $5.99 each. There are made from 95% cotton and 5% Spandex, and there are several colors to choose from.
Shipping for the first item is $3.99, and shipping for each additional item is only $1.99. Better hurry, though, since this deal isn't going to last long!