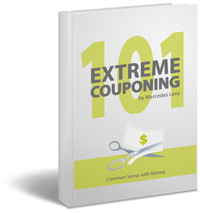 Welcome to Common Sense with Money,
My name is Mercedes Levy and after years of reading, researching, and coupon clipping, I've learned the secrets to saving thousands of dollars a year. In that time, I've gained a huge amount of knowledge about getting the most out of using coupons.  As a Couponing enthusiast, it is my goal to help everyone save money by using coupons, and I'd like to share my knowledge with you, FREE of charge.
Feel free to browse the links on this site for more information about using coupons, or sign up to get a  FREE Extreme Couponing 101 Ebook.
In this Free Couponing 101 Ebook, You'll Learn:
From Coupon Clueless to Coupon Expert

Understanding Store Sales and the Power of Stockpiling

All About Coupons

Coupon Organization

Getting Started with Strategic Couponing

Advanced Couponing Strategies

Couponing at the Grocery Store

Couponing at the Drugstores
To get this amazing one-of-a-kind news letter on couponing, simply fill out the box below, and we'll instantly deliver your free Ebook in your email inbox right away!


Learn Everything You Need to Know About Using Coupons and Saving Thousands of Dollars
Sign Up for Your Free Extreme Couponing 101 Ebook Now!