Before Christmas, I ordered a couple pairs of eyeglasses from Eye Buy Direct
, and just wanted to do a really quick review. First, I'll start by saying that it took a little while for me to actually get the glasses, but I believe that was entirely my fault. I actually entered my prescription incorrectly.
When I noticed the problem, I emailed them and they responded right away. I didn't get the message until the next day, though, and I was a little worried that I wouldn't be able to change my prescription. This was not the case, fortunately! They had waited for me to respond and I promptly sent them the corrected prescription.
The person that I communicated with was great about everything. He made sure that the prescription I sent him was indeed correct, and put the order in as soon as everything was confirmed. Overall, I'd say he was very patient with someone who made a bonehead move like I did. He even offered to replace them for FREE when they got here if they weren't right, even though I was the one who messed up.
Here are the glasses that I got…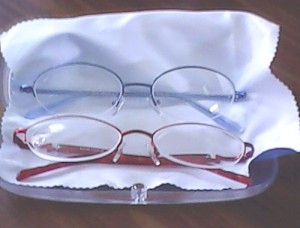 Cute, no? It's a bad picture, but they really are adorable! It was hard to choose just one pair, since there are so many $6.95 frames to choose from.
Wanna know the best part? My final price for both of these glasses – including shipping – was only $17.26! I've never ordered from them before, so I was able to use the code TRYUS and take 15% off of my order.
All I needed was my eyeglasses prescription from my optometrist. Next time, I just need to enter it correctly.
The bottom line is I will definitely order from Eye Buy Direct again. Despite my own screw up, everything turned out perfectly, and you really can't beat the price.