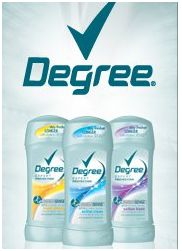 Degree Women's Deodorant will be giving away a sample at 1PM EST today!
Here are the details straight from their Facebook Page:
Have you tried NEW Degree Women with motionSENSE? We are giving away samples on our "Giveaway" tab at 1 p.m. EST, while supplies last! Grab yours before they're gone, then come back and write a short product review for a chance to win a $1,000 gift card!