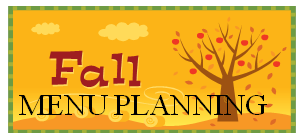 The cool crisp air is already for some amongst us and sooner than we thought. As summer draws to a close we are overwhelmed with Back to School and extra curricular activities. By fall menu planning now you will be able to save your family hundreds of dollars and make nutritious meals every night of the week!
First things first! The end of your local Farmers Markets is coming to an end. This is the time to stock up on fresh produce and freeze for those winter months. My typical rule of thumb is if it's found in the freezer aisle, you can freeze it! You can search Pinterest on ways to freeze foods you are uncertain of.
ORGANIZATION
In order to be successful at fall menu planning you've got to become organized! Check the stock in your pantry and figure out what ingredients you'll need to purchase to go along with items already in your stockpile.
The next step to the organization process is to think ahead…this one can be tricky. However, we all have those meals we tend to cook more of in the cooler months.
MEAL PLANNING
Fall Menu Meals to consider:
Spaghetti
Pot Roast
Chicken n Dumplings
Chili
 Lasagna
Potato Soup
Veggie Soup
Tomato Soup
STOCKUP
When you know the stock up prices on the items on your Fall Menu Planning Shopping list you will maximize your dollars.
Now toward the beginning of October and the start of November we often see lots of sales on baking items. If you are a baker this is the time you'll want to combine those coupons with grocery store sales and stockpile your baking essentials to get you through the end of the year.
Use the Fall Menu Planner HERE to plan your meals. Be sure to include the ingredients so you can see what's needed at a glance and to transition to your Grocery Shopping List HERE easier.
Lastly, make sure to keep your home cleaning lists organized with these handy Fall Home Cleaning Printable Labels make your tasks more enjoyable and organized.