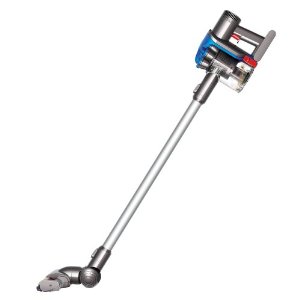 First, I want to start by saying that I am not a procrastinator at all!  I just have been pretty much traveling for the last 10 days.  I do not think most of you were holding your breath for that entire length of time wondering about what I really thought about this Dyson DC35 Slim Vacuum.  But just to wrap things up,here we go.
Let's Start With the Good
This little vacuum is a super handy picker upper.  It really is great to have a super light weight vacuum you can whip out and use pretty much anywhere.  The fact that it is cordless helps a LOT on that.  For example, the vacuum has a low profile head and I was able to stick it under the TV cabinet and pick up a ton of popcorn that was hidden in there.  It also comes with three different attachments or nozzles and that made cleaning my husband's car a real breeze which was great because there was dog hair in pretty much every possible crevice.
This is a great vacuum to pick up the messes that life throws at you everyday. I have three little kids and I swear they are eating me out of the house.  They eat constantly and they are also always on the move.  That translates into crumbs and messes everywhere they have been.  I hate the idea of pulling out the canister vacuum for picking up crumbs around the sofa or below the kitchen table every day.  This vacuum is a convenient replacement.
Room for Growth
You might now remember that this is a cordless vacuum.  Actually a few of you caught on to that on my first post.  When I first received this vacuum I did not read the owner's manual, you read that right,  I did not read the owner's manual.  It was not until a friend mentioned that the charge on this vacuum lasted at most 15 minutes that I realized this little handicap.  I was pretty bummed about that.  I actually thought it was a bit ridiculous.  HOWEVER, I then started using the vacuum regularly and realized that it was not as big a handicap as I first thought.  See, this vacuum is not for you to vacuum your whole house.  That's why Dyson has created other heavy duty machines.  This Slim Vac is for quick clean ups that should not take you more than a few minutes to pick up.  Although I still think that a bit longer lasting battery would be a great improvement to consider.
The price is not what you would consider economical at $299 MSRP.  Let's be honest here, with $299 you can buy a regular vacuum and get yourself a broom and dusting pan to quickly clean up messes.  But two things here to consider.  First, who pays MSRP these days?  Secondly, I personally don't think this should be a cheap product.  You have seen the videos of the time spent designing and building these machines and once you have one you know there is a lot of value in them.
I wanted to share this post with you from Frugal Upstate.  She literally shows you all the places she used her DC35 and her results.
Keepin' It Real: I am a participant in the Walmart Moms program. Walmart and Dyson sent me a free Dyson DC 35 to check out and provided me with compensation for the time and effort spent creating this post. However, my participation in this program is voluntary and mostly out of curiosity for checking out a Dyson product.  Any opinions expressed here are my own and obviously not edited by the sponsor or there would be less typos.