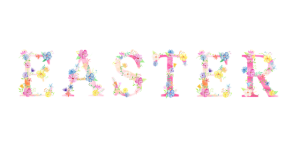 It's almost Spring, my friends!  Can you believe how quickly time is going? It seems like every year it goes faster and faster. I love spring though! The new beginnings of everything in spring are just my favorite part of nature. Another of my favorite things about spring is Easter!
I don't know if it is the pretty colors, the fact that my kids are always dressed up so beautifully, the family gatherings or the childhood memories, but Easter holds a special place in my heart. Maybe that's why I try to go all out when it comes to decorating for Easter. It's so much fun! 
You all know me though, I'm not even about to spend a bunch of money on Easter decor. I do it on the cheap! If you are wanting to start gathering your pretty Easter decor pieces too and wondering where to find the best deals on Easter decor too, check out this list of where I get the best prices.
Where to Find the Best Deals on Easter Decor
These are my go-to places for finding the best deals on Easter Decor:
Dollar Store
The dollar store is an amazing resource for low cost holiday decor items. When everything is $1, it's not such a big deal. I also love that I don't feel too guilty about not saving the decor pieces throughout the pieces. I don't like to just toss them though, I like to offer them for free on local Buy Nothing groups for people to reuse or repurpose.
You already knew that was going to be there, right? I mean Amazon is a great place to find just about anything, including Easter stuff!
Thrift Shops
Thrift shops are simply awesome and that includes the awesome deals that you can find on Easter Decor. In addition to the money you can save, thrift shopping is also such a great way to save the environment! 
Facebook Marketplace and Buy Nothing Groups
Facebook Marketplace is an awesome place to find deals!  That includes Easter stuff and those Buy Nothing groups on Facebook are so great for finding free stuff! Facebook is for so much more than visiting with friends! 
What are your favorite ways to save money on Easter decor?