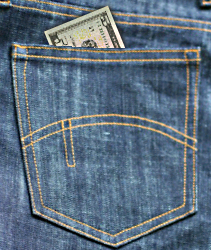 Buying clothes can be expensive. If your wardrobe is looking a bit sparse these days, though, you don't have to spend a fortune. Use these tips and tricks to find clothes for cheap and dress for less!
Shop at the End of the Season
One of the best ways to find clothes for cheap is to shop at the end of each season. Stores generally discount clothing near the end of winter and summer to clear their racks and shelve to make way for new styles. You could start seeing deep discounts on fall and winter styles as early as January, and discounts on warm weather styles could start as early as July.
Take Advantage of Rewards
If you find yourself buying apparel frequently, another great way to find clothes for cheap is to take advantage of the rewards that some stores offer, like Kohl's Cash. Typically, you'll have to buy a certain amount of merchandise in order to qualify for a small reward. These reward dollars can then be used for future purchases. Reward programs are an especially great way to save money on new school clothes.
Shop at Thrift Stores
Thrift stores sometimes get a bad rap, but some thrift stores are great places to find clothes for cheap. A good part of my wardrobe has come from the thrift store, and I've even managed to pick up a few leather jackets for just a couple dollars a piece. You can often find gently used clothing from top brands for just a few dollars – or cents! Thrift stores also have sales, just like every other store. You can often find the sales for the day or week posted on the door or near the register. If you aren't sure when the sales are at your local thrift stores, just ask.
Don't Dismiss Dollar Stores
Even the true dollar store have clothes, and you can sometimes find some decent deals. Dollar stores are sometimes good places to find basic items, like plain t-shirts, as well as socks and undergarments.
Shop Online
If you know your size, you can often find clothes for cheap online. Many store websites have additional promo codes that can be applied toward your purchase, saving you even more  than if you were to take a trip to the store. You can also get cash back from rewards sites like Ebates, and you have a better selection online. If you shop online, though, make sure you can return the items for a refund if they don't fit.
Swap Clothes For Free
If you have a friend or two that's the same size as you, consider swapping clothes. Just gather up all of the clothes that you no longer want, get together, and swap clothes. You can also swap clothes online at clothing swap websites like Swap Style.
Other Tips to Find Clothes for Cheap
There are a few things to keep in mind when you're looking to find cheap clothes.
Don't buy something just because it's on sale. No matter how cheap a garment is, it's nothing but a waste of money if you never wear it.
Always try on clothes before you buy them. Make sure they fit properly in all of the right places. The one exception to this rule would be when trying to find cheap clothes online. In this case, make sure you can return or exchange the clothes before you buy.
Buy clothes that fit now. Even if you plan on losing weight in the near future, those jeans that are one size too small still might not fit right. It's best to find cheap clothes after you changes sizes.
Take good care of your clothes. They're just too expensive to replace every time you get a stain or a rip.