CVS store coupons are a fantastic way to save even more money at CVS! You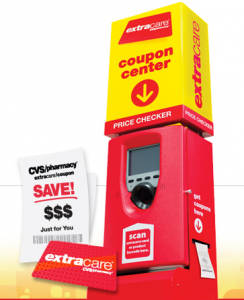 can stack CVS store coupons with manufacturer coupons, and you can usually still get Extracare Bucks when you use them.
If you're new to couponing at CVS, though, you may not be taking advantage of all of the different ways you can find CVS store coupons. Although the red coupon machine is probably the most well know place to find CVS coupons, it's not the only place.
To get the most bang for your buck at CVS, make sure you know where to find CVS store coupons!
CVS Store Coupons From The Red Coupon Machine
When you first walk into a CVS store, you'll most likely notice a red coupon kiosk. This is the main way to get CVS store couponsBefore you go shopping, make sure you scan your CVS Extracare card at this machine, since it should print out at least a couple of CVS store coupons. These store coupons are hooked to your Extracare card and can only be used with your Extracare card at checkout.
At the very least you will receive a couple of CVS store coupons that everyone receives each week. You'll usually know what these are ahead of time, since they're mentioned in the weekly ad. You should also receive a few CVS store coupons based on your future purchases.
Did you know that you may get more CVS store coupons if you scan your Extracare card more than once? Keep scanning your card until you see the message "Hey Super Scanner! You've already printed all your coupons." Scan your card a couple of times each week as well; you'll usually receive coupons at the beginning of the week as well as about halfway through the week.
CVS Extracare Account Online
You can always check to see if you have new CVS store coupons waiting for you by checking your CVS Extracare account online. After you sign in, just click on the "My Savings & Rewards" tab at the top. This should bring up a list of all of the CVS store coupons that are available for you to print.
These will print when you scan your card at the coupon machine. You can also print them at home or send them directly to your CVS Extracare card. Keep in mind, though, that you can only use a CVS store coupon once.
CVS Store Coupons in Your Inbox and Mailbox
Once you create your CVS Extracare account online, don't forget to sign up for emails from CVS! When you first sign up, you'll receive a nice coupon for $4 off a $20 purchase. You'll also periodically receive random CVS store coupons. These are sometimes for a few dollars off when you spend a certain amount, such as $3 off a $15 purchase, or a percent off. You can opt-in to receive CVS emails in your CVS Extracare profile.
Your email isn't the only mail box you'll get CVS store coupons in either! Make sure your mailing address is correct under your CVS Extracare profile. Sometimes, CVS store coupons are sent out in mailers.
CVS Store Coupons From Beauty Purchases
You don't have to be a girl to sign up for the CVS Extracare Beauty Club! Good thing too, because this is a nice way to get additional CVS store coupons!
After you sign up, you'll earn $5 Extracare bucks when you spend $50 on participating beauty and personal care items. This includes cosmetics, fragrances, hair accessories, hair appliances, hair care, hair color, and skin care products. And, the $50 minimum beauty purchase is based on your subtotal before coupons are deducted.
You'll also get a 10% off CVS store coupon emailed to you when you first sign up as well as $3 Extracare Bucks on your birthday.
CVS Store Coupons With Prescription Refills
Do you frequently fill or refill prescriptions? Make sure you sign up for CVS Pharmacy & Health Rewards! For every prescription you fill or refill, you'll get 1 point. If you fill or refill a 90-day prescription at CVS, you receive 3 points. When you get 10 points, you'll get $5 Extracare Bucks to spend in the store.