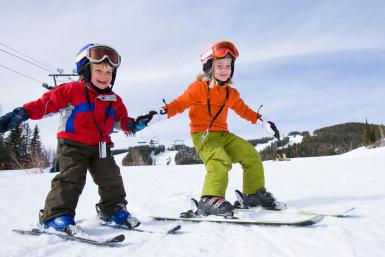 We still have a couple months left of winter and snow, so we might as well enjoy it. Good thing that there are many fun family activities for winter! Families can have so much fun together both indoors and outdoors during all seasons, including winter.
Here are a few great family activities for winter…
Going Skiing
There are many wonderful skiing resorts, depending on your current location and budget. You can pick something that doesn't cost an arm and a leg. You can plan this cool trip in advance in order to save more money and find the best accommodation there is. Skiing is one of those family activities for winter that will help keep you in shape too!
Build a Snowman
There's no such thing as being too old for building a snowman! Try to make this winter activity more interesting by setting a challenge to build a snowman and add some original accessories to it. You can split in teams and set an award to make it a little more interesting!
Taking Up a Hobby
The winter holidays give us plenty of free time that we can take advantage of. Now is the time to start a new hobby, like playing the guitar, sewing, or knitting. You can also teach other family members what you've learned or learn a new hobby together. They'll be all amused and so will you if they don't get it at first, but you'll still have fun together.
Take a Trip
If you don't like the cold season so much, you can go on a trip to a warmer area. There are many family discounts that you can take advantage of and if you plan this trip in advance you won't be spending a fortune either.
Be a Storyteller
The most fascinating stories one can tell are those based on the truth. So you can look into your family tree and find out who your ancestors were. Tell your kids more about your findings. They'll love to learn about their family's history.
Complex Puzzles and Games
You're never too young or too old for complex puzzles. Puzzles stimulate the brain and make great family activities for winter. If you want an intellectual game, making a puzzle with your loved ones is one fine choice this winter. If you want a more challenging game, try chess.
Don't Forget Photos and Videos
Whatever winter activity strikes your fancy, make sure to take some photos or make little videos to capture your cool family moments. They'll turn out to be precious memories in the future.