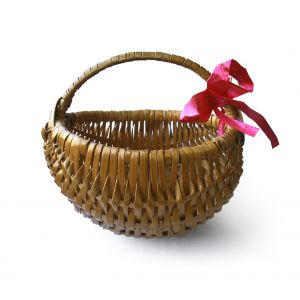 Homemade gift baskets make great gifts during the holidays. They're useful and thoughtful not to mention relatively inexpensive.
The most expensive part about making gift baskets is filling them. If you aren't careful, the contents of your gift basket can be quite costly. Before you realize it, you might end up spending way more than you want on gifts that are supposed to save you money.
Finding inexpensive gift basket items isn't impossible, though. In fact, it's pretty easy. There are lots of great places to find inexpensive gift basket items, and here are a few of my favorite places…
Dollar Stores
One of the main places to find inexpensive gift basket items are your local dollar stores. You can usually find something for your gift baskets at the dollar stores. Small baskets are a great investment, and you can also find tissue paper, candy, bath items, art supplies, and coffee mugs.
Thrift Stores
Don't skip the thrift stores if you're looking for large baskets! I know my local thrift stores have amazing baskets every time I stop. You can pick them up for super cheap. Just make sure they're clean and in good shape.
Trial and Travel Section
Small trial and travel size personal care items make great inexpensive gift basket items! You can put together a fun spa gift basket with a variety of different products just from this section of the store alone. Even the travel sizes of the normally expensive products are only a dollar or two at the most.
Coupon Stockpile
If you're an avid couponer, you probably have a nice little stockpile of normally expensive products that you got for free or almost free. Raid your own coupon stockpile for your gift basket items and you'll save a bundle!
Free Sample Pile
Do you send away for free samples every chance you get? If you have a nice little collection of untouched free samples, you might be able to raid your stash for gift basket items that didn't cost you a dime! Everything from travel size shampoos to lotions to coffee and tea samples can be added to gift baskets.
The Kitchen
Nothing says "you're awesome" like a basket of homemade goodies! Sometimes the best inexpensive gift basket items come right from your own kitchen. Spend an afternoon baking cookies, making peanut butter fudge, or putting together homemade baking mixes to put in your gift baskets.
Do you gift homemade gift baskets? Any other ideas where to find inexpensive gift basket items?
More Frugal Living Resources: