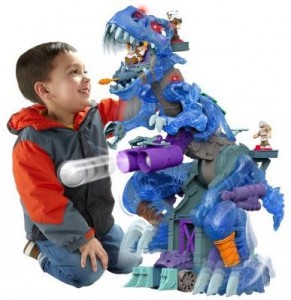 Woah!! How cool is this set?! Walmart has the Fisher-Price Imaginext Ultra T-Rex for only $79 shipped! Or you can also get this at Amazon for the same exact price! Nice! Here are some additional details and features:
3 Power Pads bring the Imaginext Ultra Ice Dino roaring to life!
Turn the Power Pad behind his tail – he takes four steps forward, with exciting sound effects
Turn the Power Pad above his left hip to raise him to his full height of 2 ½ feet – and make the LEDs in his spikes and eyes light up!
Turn the third Power Pad to open and close his mouth – and fire projectiles!
Push button to launch ice bombs from his chest and back
Press lever to fire his projectile claw!
Hear awesome sound effects when he's walking, standing and firing projectiles!
Includes Ultra Ice Dino with jail, trap door, weapon storage, pterodactyl glider, ice boulder launcher, storage on back, tethered projectile claw, 3 Imaginext cavemen figures with helmets and accessories, 4 ice boulders and 4 arrows
This would make an AMAZING Christmas gift! If you don't want to wait for it to be delivered to your home, make sure to select in-store pickup if available near you!