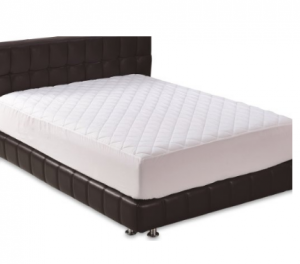 Is your mattress getting a little old?  Add a little life to it with this Fitted Quilted Mattress Pad that you can pick up for just $23.49 (Queen size)!  This is almost half off and it has great reviews!
Queen size dimensions measures 60 inches x 80 inches; Knitted skirt stretches to fit up to 17 inch deep mattress

Quilted mattress pad cover is durable and long lasting and is significant for two main reasons that are to keep your mattress free of stains and prevent exposure to dust mites and other potential allergens

The super soft quilt with fiberfill has additional loft that provides extra comfortable sleep and protection; vinyl back and elastic all around secure pad into position

The cover is machine washable and is tumbled dry for easy maintenance

We think you're going to love this fitted quilted mattress pad as much as we do but in case you don't you are covered by our 30 day no questions asked money back guarantee
They have all sizes available and all for under $30.