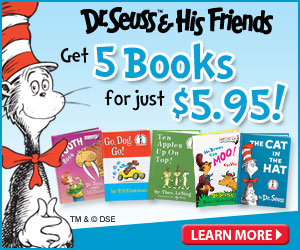 No child should go without a few Dr. Suess books. Now, you can save a bundle of money to start your Dr. Suess collection or add to it.
This offer gives you the chance to choose any 5 Dr. Suess books and pay only $5.95 cents for them. The shipping is even FREE and you get a FREE activity book with your order, making this a sweet deal that's difficult for any parent to pass up.
When you order your first 5 books, you may want to consider taking advantage of their other offer – get two additional books for just $4.99. After signing up, you'll be sent three more Dr. Suess books every month for just $4.99 each. If you don't like the books, simply return them and pay nothing for the books.
And here's the best part…
No commitment to buy any additional books is required, unlike some other book clubs. You can cancel at any time.
These books make great gifts for all of the little ones in your life. If you're getting ready for Christmas early, find out more about what to know before you layaway.