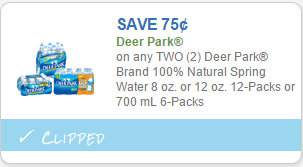 Wow! There are FIVE printable spring water coupons available right now under different zip codes! These would have come in pretty handy during our recent water crisis, but alas! I found them just one day too late.
They'll come in handy for building up an emergency supply, though!
Remember, you can usually get two prints from each coupon. To get a second print, just come back to this page and click on the coupons you want again. It'll save you some time and frustration searching, and each one will open in a new tab. 
Get grocery coupon matchups right at your fingertips with Favado! Sign up for FREE!

Resources You Might Like:
Coupons.com