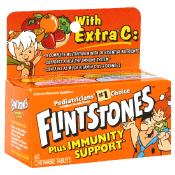 Walgreens has a Register Rewards promotions going on for Flinstones Vitamins: Buy $20 in product and get a $10 in Register rewards back.  This is the transaction I detailed for you in my weekly deals post:
Flinstones Children's Vitamins 60ct $5
Buy $20 get $10 in register rewards back
Use $1/1 internet printable
Use $1/1 from Coloring Book
Pay $0.50 each after coupons and register rewards
There was a mail in rebate form in the 1/4 coupon inserts:  Bayer Special Half Price Offer up to $10 Refund.  The offer does exclude coupon savings, so if you bought $20 in product and used $4 in manufacturer coupons then your rebate should be up to $8.  After mail in rebate you should come out ahead $6.
Also, there was a coupon in the same inserts for buy one get one free Stayfree product.  There is also a coupon for $3 off any Stayfree 28 or 48 pack in the weekly Walgreens ad.  The 28 count bag of Maxi pads sells for $6.99.  This is how you can get two for free:
$13.98 for two Stayfree products
-6.99 buy one get one coupon
-1 internet printable coupon
-6 (deducted when in-ad coupon gets scanned)
= FREE after coupons
Remember to hand in coupons in this order to avoid any beeping.
Anita also emailed me with this deal she got on Centrum Vitamins.  They are also part of the "Buy $20 get $20 in RRs back" deal.  The Centrum Silver (100ct) and the Original (130 ct) are on sale for $7 each.  There were $3 off coupons in these past Sunday inserts.  After coupons and register rewards you pay $2 plus tax for three bottles.
Anna from Thirteen and Frugal, sent me an email to remind us that the One Touch Mini glucose meters are on sale for $14.99 and there was a $20 off coupon in these past Sunday's inserts.  These make wonderful donations to free clinics.
Ton's of deals at Walgreens this week.  Happy Shopping!