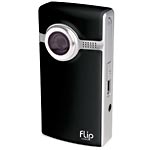 I want to thank everyone who shared their favorite holiday memory with the rest of us. I was touched by all of them and they all brought home the real spirit of the season. I really want to encourage you to take some time to read the entries.
This is the random winning number:
20
Timestamp: 2008-12-11 16:36:33 UTC
Congratulations to Sharla! She is the winner of the FLIP Ultra Camera. Sharla's favorite holiday memory was:
"I have so many wonderful holiday memories from when I was a kid and now that I get to experience it with my own kids. The best Christmas memories I have are sitting around with my family singing Christmas carols. This is a memory and tradition I want to share with my kids today as well. I REALLY hope I win this. I've wanted one of these soo bad but can't afford one this year. Love the blog!"
I have contacted Sharla and she has 48 hrs to email me her address so I can get this out to her. Thank you everyone for entering this giveaway. Don't forget to enter my giveaway for $100 Walmart gift card or one of two pairs of alpaca socks.