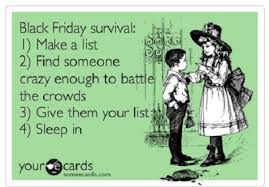 Ah, November…
A time to shop, shop, shop 'til you drop, drop, drop!
The month usually starts with a bang, as retailers gear up with early holiday teaser sales and the Black Friday ads are "leaked". The excitement and anticipation only builds throughout the month. For many, the thought of snagging some amazing deals on Black Friday or even Thanksgiving is enough to give them heart palpitations. And there's nothing wrong with that! If you haven't noticed, I'm pretty fond of big savings myself.
For others though, the thought of shopping on Black Friday is enough to give them heart palpitations, but in more of a cold-sweat-yikes kind of way. And there's nothing wrong with that either!
I used to love Black Friday shopping. I'd wait in line for hours in the cold just to snag an amazing deal on a TV or hot toy. If it was in stock, that is. These days though? Not so much…
This year, I'll probably skip the craziness altogether and just stay home Black Friday. And Thanksgiving. And any other crazy super sale day that retailers can think up. It's just not for me anymore.
Here are some of my top reasons to stay home Black Friday…
Black Friday prices aren't always the best.
It's true that retailers do offer significant discounts on Black Friday, but they aren't always the best prices out there. For example, you can usually snag better deals on big ticket electronics like televisions and computers at the beginning of the year after the January Consumer Electronics Show. Inflated "original" prices also make Black Friday discounts look more amazing than they really are. More and more retailers are also starting their holiday super sales at the beginning of November both online and in stores. The Walmart online Early Bird specials and Amazon Countdown to Black Friday deals are prime examples of this. Target also offered in-store early access Black Friday deals on select items in stores on November 11, 2014. Take advantage of the online sales now, and you'll be able to stay home Black Friday and still save a bundle.
It can actually be a waste of money.
Black Friday is supposed to be all about the big savings, but as I pointed out above, your savings aren't always as huge as you think. And the impulse purchase I used to make on Black Friday? I shudder when I think of it! Some other costs that can add up on Black Friday include fuel and dining out.
There are just too many people. Period.
Being in a store on Black Friday is like being smashed into a sardine can with hundreds of other suckers. No thank you! I'd rather stay home Black Friday and skip the added stress. I'll most likely spend the day hanging out with my family, deal hunting, and shopping the awesome online Black Friday deals from the comfort of my own home.
Limited quantities aren't worth it.
Crowds of people vying for one of two hot items can get cray-cray! It can be like a mosh pit at a death metal concert at time. Some of the more fanatical Black Friday shoppers can even resort to violence over the stupidest things. Forget that nonsense! No product is worth a stampede, shoving match, or brawl. I'd rather stay home Black Friday and snag deals online than waste time and miss out on the stores' "limited quantities".
If you can buy it on Black Friday, you can buy it online.
Online shopping can save loads of time and money. Many of the Black Friday deals (or similar deals) can also be found online on Thanksgiving, Black Friday, and Cyber Monday. So, if you want to stay home Black Friday but don't want to miss the deals, opt for online shopping instead. Just make sure that you don't spend more than you need to after shipping.
Save a little money for Small Business Saturday.
Although not as well known or popular, Small Business Saturday is also a great day for holiday shopping. On this day, people are encouraged to shop at small businesses on the Saturday after Thanksgiving. Most small businesses will have sales and offer discounts, and you'll be supporting the local businesses in your area. Local stores are also not nearly as crazy crowded on Small Business Saturday as the big stores are on Black Friday.
Will you stay home on Black Friday this year, or will you brave the craziness?
More Frugal Living Resources: