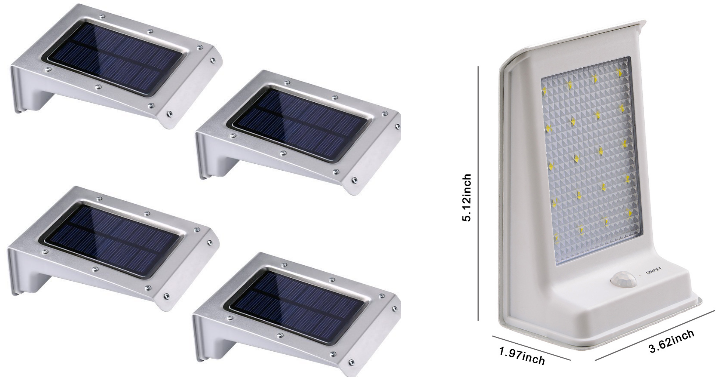 Motion lights are super handy, but they can be an expensive pain to install. Add some motion lights to your outdoor area with no wiring needed! This 4-pack of Outdoor Solar Motion Sensor Lights for only $29.99 at WalMart right now! (Save $25) These also ship for free!
Features:
– LED Motion Sensor Light with a large sensor – sensing range up to 10 feet with a 120 degree sensing angle.
– Light stays on for 35 seconds after motion has ceased.
– Completely wireless,easy installation,wipe clean with a dry cloth.
– The light's built-in battery is a super-efficient Li-ion battery. The battery can be recharged again and again and has a multi-year lifespan.
Specification:
– Solar Panel:5.5V 110MA 17% efficiency
– Li-ion Battery:3.7V 1000mAh
– LED Number: 20PCS
– Lumens: 220LM
– Motion Angle and Distance:120 degree angle 3M
– Switch:OFF/AUTO
– Lighting Mode: OFF/DIM light/High light; Off: auto off during the daytime; DIM: weak light for saving power when no motion detected; Bright: bright light when someone or something enters its range
Notes:
– Please install the unit face south and make sure the solar panel can get the sunlight directly without any shelter or glass.
– For optimum battery performance, please allow the batteries to charge for 2 sunny days before turning the lights on for the first time.