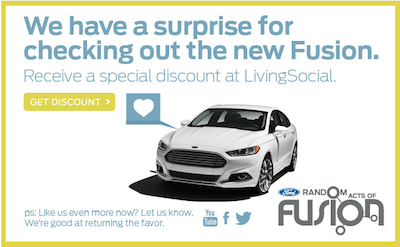 Ford Fusion is has partnered with LivingSocial and you can get a credit worth $10, $20 or $30.  Depends on your luck!  CLICK HEREand then scroll through the pictures.  Click on the last picture, which says "Get Discount" and it will take you to a Living Social page where you'll need to click "Shop Now".
Check out the deals available on Living Social here, as you can get some nice free deals depending on the amount of the credit you get.
Thanks Save the Coupons!