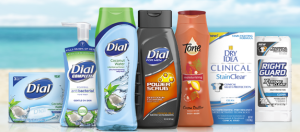 Woo hoo! Here's a nice little deal from Henkel that should ge great with the current $5/$15 Target personal care coupon!
Through July 21st, you can get a $10 gas card when you spend $25 on Henkel personal care products. This offer includes brands like Dial®, Dial® For Men, Tone®, Right Guard® or Dry Idea®.
To claim your gift card, you'll need to snap a photo of your receipt and email it to rewards@dialsoaprewards.com or text DIAL to 811811 for submission instructions.
The Terms & Conditions page doesn't seem to be working at the moment, so I'm not positive if you'll need to spend $25 before or after coupons. I reached out to Henkel in an email, though, and I'll let you know their response.
In the meantime, make sure you print these great coupons for Henkel products!