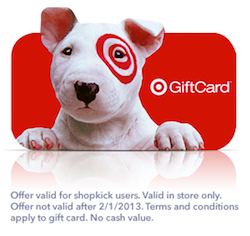 Shopkick is offering a free $2.00 Target gift card for new and existing Shopkick app users.  If you are signed up for Target text messages you should have seen the above photo.  If not, here's how to get it: 
Register for your Free $2 Target Gift Card
Enter your phone number registered to your ShopKick account. OR if you don't have an account Sign up for the Shopkick app.  This offers valuable mobile coupons and rewards. see below for more details.
On your ShopKick App, click on "My Stuff" in your profile
Next time you're at Target just open your app and your Target $2 Gift Card will be available
So what is Shopkick?
Shopkick is a free app that can be found in the iPhone or Android application store. If you set your smartphone to locate your position, ShopKick will recognize what stores or restaurants you enter. You receive "kickbucks" or points that you can redeem for rewards like a Target giftcard. When you enter a store or restaurant or scan certain barcodes you will earn kickbucks. By using Shopkick, you can get  scannable Target Coupons to redeem at checkout.
To learn more about Shopkick, visit their website here.  Check out all the best Target deals here.
Thanks Living Rich With Coupons