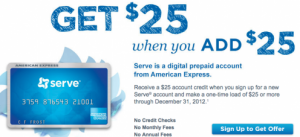 Here's a super easy way to make $25!  Get a FREE $25 account credit when you sign up for a new Serve account and add $25 or more through December 31, 2012.
Get a Serve prepaid card to use everywhere American Express Cards are accepted in the U.S.
Use your account from a smartphone with our app or the mobile web
Add money to your account from a U.S. bank account
Add money with a debit card or a credit card from American Express, Discover, MasterCard, or Visa
Add money to your account with cash using a MoneyPak
Uou will receive a verification email within 30 minutes after signing up. Click on the link in the email and enter your verification code that was sent. (Check your spam folder). Your Serve card should be received within 7-10 business days after you register.
Thanks Freebie Blogger