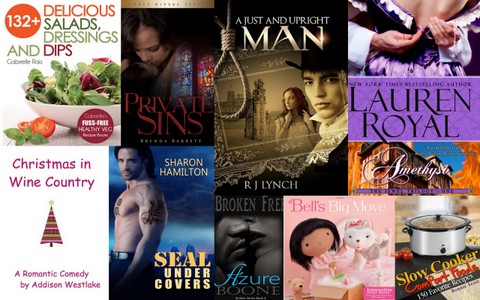 Every day Amazon offers a selection of Romance, Science Fiction, Fantasy and Teen titles at a discounted price.
Kindle Daily Deals – Each day they unveil new Kindle book deals for adults and young readers with prices usually ranging $1.99-$2.99. These are only discounted for today.

Kindle Monthly Deals – Each month they unveil a new collection of 100 Kindle books for $3.99 or less.
Thanks To Rose Knows Coupons here are some FREE kindle titles available for download at the moment:
Romance
SEAL Under Covers (SEAL Brotherhood #3)
The Blind Date (Love Unexpected)
Amethyst (Jewel Trilogy, Book 1)
This Time Forever (Glebe Point)
Broken Free (The Broken Series)
Contemporary
The Eternal Intern (Contemporary Romantic Comedy)
Historical
Romanian Gypsies: 9 true stories about what it's like to be a Gypsy in Romania
The History Of Oil – Revised Edition – History Series
Christian, Religious & Inspirational
Two Crosses: A Novel (Secrets of the Cross Trilogy)
John Calvin: A Heart for Devotion, Doctrine, Doxology
The Daily Walk Bible NLT: 31 Days with Jesus

Private Sins (Three Rivers Series: Book 1)
Young Adult
Goddess Legacy: Goddess Series Book 1 (Young Adult / New Adult Series)
Marcella, vampire mage (Royal Blood Chronicles)
Dazzle (Delaney's Gift #1) (Delaney's Gift Series)
Prom Dates to Die For (Paranormal Teen Anthology)
Mystery, Suspense & Action
Freedom Bridge: A Cold War Thriller
The Gauguin Connection (Genevieve Lenard)
A Just and Upright Man (The James Blakiston Series) (no reviews on this one yet but I loved the book cover…)
Sweet Masterpiece: The First Samantha Sweet Mystery (The Samantha Sweet Mysteries)
Paranormal, Fantasy & Science Fiction
Offworld (Dangerous Times Collection Book #1)
Home, DIY, & Crafts
12 Halloween Crafts to Crochet: DIY Home Decor, Halloween Costume Ideas, and More
Children's
HERO Academy,: Superheroes-In-Training (An Illustrated Graphic Novel for Kids)
Aesop's Fables: The Goose With The Golden Eggs (Illustrated)
Bored No More: A Children's Book about Creativity
Biographies & Memoirs
East Wind/B.B.U.S.A. (2 in 1 Combo)
Celebrity Confessions: What Hollywood's Rich and Famous Say About Sex, Money and Success (Celebrity Books)
Cold A Long Time: An Alpine Mystery
Cookbooks
Bare Root Sweets: 30 Paleo Dessert Recipes for the Modern Food Lover
Farm Girl Country Cooking: Hearty Meals for the Active Family
132+ Delicious Salads, Dressings And Dips (Gabrielle's FUSS-FREE Healthy Veg Recipes)

Remember that you do not need a Kindle e-reader to be able to read this book. You can read it on your PC, iPhone, iPad
, Blackberry and Android. Just download for free the appropriate application to be able to do that. Amazon changes prices without notice, so make sure to check that the kindle price it is still $0.00 before you start downloading this book.