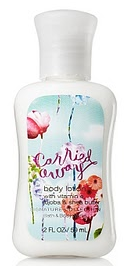 Through 1/23 you can pick up a free 2oz bottle of Carried Away Lotion at Bath and Body Works with this printable coupon.  No other purchase required.  Also through 2/6/11, you can print a coupon good for a FREE Anti-Bac product (up to $5 value) at Bath & Body Works with any $10 or more purchase.  This coupon is valid in store and also online using coupon code: ANTIBAC10.
Here are other retail offers available:
You can find more store coupons at Your Retail Helper!