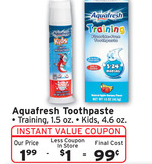 Walgreens will have a mid-week ad that is effective from 4/20-4/23.  These would be additional offers to go along the weekly Walgreens deals.  One of the offers is Aquafresh toothpaste for $1.99.  You can get it free with this deal:
Aquafresh toothpaste $1.99
Use $1/1 Aquafresh Kids Toothpaste 4/17/2011 RP Insert (exp 5/31/2011) or
Use $0.75/1 Aquafresh Training Flouride-Free Toothpaste
PLUS Use$1/1 Aquafresh Training Toothpaste, 1.5 oz or Kid's Pump Walgreens IVC
Free or $0.24 each after coupons
Don't forget to hand your manufacturer coupon first to avoid any beeps at the register.
Thanks, Master the Art of Saving!