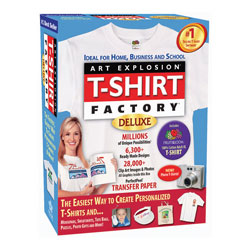 Office Depot is offering five free after rebate items, now through 5/30.  Since they are both free after mail in rebates you will need different receipts for them.  You can find the rebate forms in-store.
Art Explosion T-Shirt Factory Deluxe which is Free after a Mail In Rebate. The retail price is $29.95 and there is a $30.00 Mail in Rebate being offered.
Scrapbook Boutique from Simple Scrapbooks free after rebate. The price is $29.99 with a $40.00 Mail In Rebate.
The Check It Registry Cleaner software is free after rebate. Price is $29.95 with a $30.00 rebate.
Roxio VHS to DVD kit for free after Instant Savings and a Mail in Rebate. The price is $59.99. There is a $10.00 Instant Savings this week, and a $50.00 Prepaid Visa mail in rebate.
Sharp 8-Digit Display calculator is also free this week. The price of the calculator is $3.99 and you will get a $4.00 Prepaid Visa Gift Card with the rebate.
Nice freebies, if you take the time to go through the rebate process. Thanks Heather for the heads up on these freebies.
Enjoy!