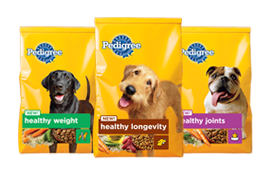 If you adopted a dog over the last year Pedigree wants to say thank you to you.  Fill out the form available here and submit proof of adoption to get a coupon good towards a 20lb bag of Pedigree Food.  The form must be received by February of 2011. This offer is open to U.S. residents only.
I love this promotion that Pedigree offers every year.  We took advantage of it three years ago and since we don't feed Pedigree to our dogs we donated the coupon to a dog shelter.
Thanks Freebie Blogger!