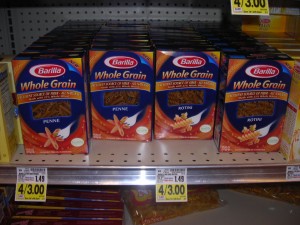 Crystal, the Thrifty Mama, spotted this pasta deal at her local Kroger yesterday.  Barilla Whole Wheat Pasta is on sale this week 4/$3.  Use the $0.50/1 coupon from the 3/29 SS insert.  Since most Kroger stores double coupons with a value of $0.50 or less, you would get the pasta free with a bit of overage to boot.
Thanks for sharing this great deal Crystal!
Here is another hot deal you could get at Kroger:
Kroger has Angel soft toilet paper on sale for $1 for the 4 roll pack.  Use the $0.50/1 coupon from the 4/19 red plum insert to get FREE TP!
If you didn't get any of these coupons in your newspaper, hopefully it's not too late to order from coupon clipping services or Ebay.  I have a post on this coming later today.