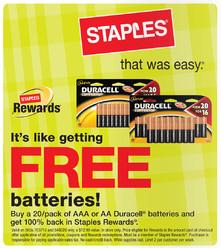 Looking for free batteries? If you are buying toys you definitely should be!  Here is a couple of ways you can get them free:
Staples is offering two FREE 20 packs of Duracell Batteries per week through December 25th.  Just buy two packs every week and get 100%back via Staples Rewards.  These rewards must be spent in store but you can use them to buy things like ink.  This offer is only available in-store.
Office Depot is offering one 20-count package of Energizer AA or AAA batteries. You get 100% back in WorkLife Rewards
Both programs are free to join and anyone can join them.  I am stopping by Staples to pick these up later this week.
Thanks Couponing 101!