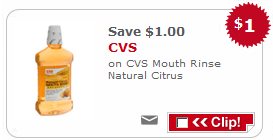 There are quite a few new coupons avialble on the CVS website right now.  But it is one of them that can help you get free  citrus mouthwash:
CVS Brand Natural Citrus Mouthwash $0.99 (travel size)
Use $1/1 CVS Mouth Wash Natural Citrus (any)
FREE after coupon
I have to say that CVS is one of those stores that has never given me any trouble about adjusting coupons down.  What has been your experience?