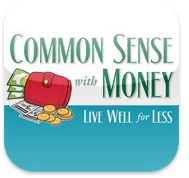 I am very excited to share with you that you can now stalk keep up with Common Sense with Money via a mobile App.  This app is available for Android devices (click on the link to install).  This is also available to download for iPhone and iPad users.  How cool is that?
Here are some of the features available:
This app is updated almost instantly after a post is published on the website. you will be able to access all deals and links to take advantage of them easily from your phone. If you have an iPhone or iPad set up Auto-Fill so you can sign up for those freebies with one click.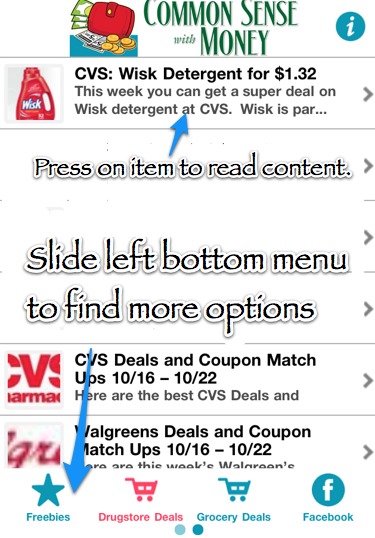 But check out the menu at the bottom of the app. You can slide it over and you will have access to the many quick access menus available:
Coupons: Lists all the Printable Coupons I have shared with you recently>
Online Deals: Has all the online deals I have blogged about with link to get them
Freebies: Includes any free stuff, free samples, free magazines, music downloads, etc that many be available.
In the Grocery and Drugstore deals you will find those store coupon match ups that maybe SO helpful to you while you are shopping
Facebook: Visit the CSWM Facebook page and join the conversation!
The Discount Mags button will bring you to the Discount Mags website.  Discount Mags was very gracious to  sponsor this app and allow me to bring this valuable resource to my readers.
One more thing, you can also share each and every one of these deals easier with your friends.  Just click on the upper right corner on each deal page and you will find a way to share that deal with a friend via email, Twitter, Facebook or Email  It doesn't get any easier than that!
After you have downloaded the App and have played with it for a while, I would really love it for you to leave a rating for it. Just a note, I heard some of you had problems getting the app to open. You may have to restart your phone to fix that.
Thanks so much to Discount Mag for offering to sponsoring the creation of this App.  I hope everyone finds it useful and time and money saving.