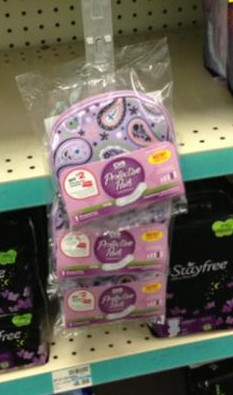 If you shop CVS, Be on the lookout for these CVS Protective Pads 1ct in a Decorative Purse Pouch.  They have been found in the feminine products section or travel section at various CVS stores. Please note that not all stores will carry these products but if you find them you can grab them for as low as free!  The ECB offer is printed right on the package so you don't have to look for signage.  Here's are the details:
CVS Protective Pads 1ct. w/Decorative Purse Pouch $1.99 – $2.19 (limit ?)
Pay as low as $1.99, get back $2 ECB
FREE after ECB
Some have been able to get two of these but the limit is unknown.  Take a look at the other CVS deals here.
I have read that the pad is pretty big but the purse looks pretty cute!  Great donation idea.
Thanks and Photo Credit, Living Rich With Coupons