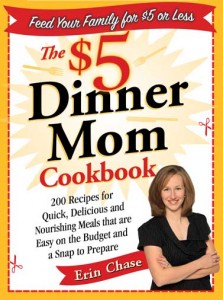 Oh, I am so excited to share this freebie with you, but let me first ask you something: do you read $5 Dinners? If the answer is no then you are missing out on a great source of information on how to  translate your bargain food finds into economical meals for your family.  Erin Chase, the $5 Dinner Mom, shares with you every night the $5 dinner she serves to her family and if you are a non-believer and think that you can't spend less and eat healthy then you need to start reading her blog.  Her dinners are always full of healthy ingredients.  Erin is now sharing all of her tips and recipes not only on her blog but also on her new book "The $5 Dinner Mom Cookbook" now available for pre-order. Here's a sampler of the yummy goodness you will find in her cookbook:
North Carolina Pulled Pork Sandwiches – $4.90
Curried Pumpkin Soup – $4.41
Apple Dijon Pork Roast – $4.30
Orange Beef and Broccoli Stir-Fry – $4.94
Creamy Lemon Dill Catfish – $4.95
Bacon-Wrapped Apple Chicken – $4.96
Country Ribs with Oven Fries – $4.77
Those all sound delicious to me!  Erin, wants to help you spend less on your Holiday Dinner and it's offering a free Ebook to you.  Download her $5 Dinner Mom Does Holiday Dinner Ebook and you will get all of her recipes for an economical Holiday Dinner AND recipes for what to do with the leftover plus a shopping list.  I can certainly appreciate that as I am always leaving items off my list when I go shopping.  After you download your free e-book, don't forget to stop by her blog $5 Dinners.